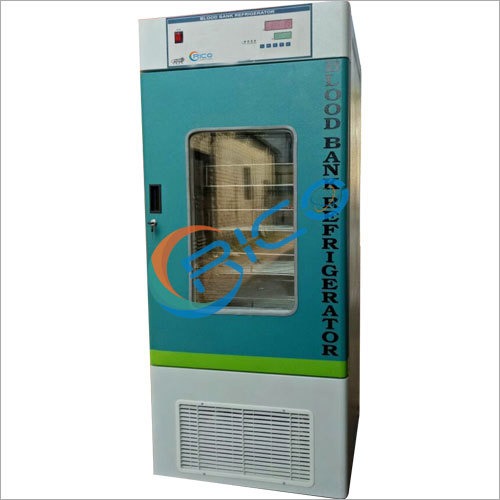 Blood Bank Refrigerator
Product Description
Blood Bank Refrigerator
RICO Blood Bank Refrigerator has been envisaged and designed to meet the challenging requirements of modern day blood banks so that the entire blood and its derivatives with a variety of other products such as vaccine, primer, culture media etc. are preserved efficiently. To be it ensures the freshness and integrity of blood and blood. Organ Our blood bank refrigerators are composed of corrosion-free metal components with advance polyurethane insulation, which ensure maximum thermal efficiency and durability.
We are experts in both standard and optimized models of vaccine refrigerators specially designed to meet the various special needs of our customers in India and abroad.
FEATURES:
The strong construction outer chamber is made of light steel, which has been treated in the past and finished with a powder coated paint for permanent finish.
To maintain uniformity of temperature in the chamber, equipped with durable coaxial blowers for forced air circulation back to triple wall.
The outer front double-walled door is untouched and with no magnetic tape mounted for air tight closing without any temperature loss, which is available with lock and arrangement.
Door operated illumination lamp is fitted inside the chamber for easy visibility.
Enables inspection and monitoring of internal chamber samples without disturbing the temperature of a full-view internal placby-glass door process.
High grade PUF INSULATION between outer and inner chamber for minimal thermal losses.
The compressor / condensing units marked by ISI are cooled by CFC free and R-134 by an eco-friendly refrigerant in the air circulation path, the fine tube evaporates lie.
The temperature is controlled by the electronic digital temperature indicator co-controller which fits with the audio visual alarm in which the battery is included with the back which is more than the allowed tolerance in the case of fluctuation. The unit has also been installed as a safety device with a door operated alarm and power supply failure alarm. To prevent the stored blood bag from spoiling.
Drawers are provided for accommodating blood bottles or Blood bags.
Caster wheel mounted for easy portability.
Supplied with cord and plug.
Operating Voltage: 220 Volts AC (50 Hz).
APPLICATIONS
HOSPITALS
BLOOD BANK
RESEARCH INSTITUTES
PHARMACEUTICALS FACTORIES
TECHNICAL SPECIFICATIONS:
Model No.

RSI/BB-21

RSI/BB-22

RSI/BB-23

RSI/BB-24

Approx Volume (Ltr)

40 ltrs

85 ltrs

165 ltrs

215 ltrs

Blood Bags Capacity

24

50

110

200

No. of Shelves

2

2

3

3

Chamber

Inner Chamber Made of Stainless Steel

Temperature

Preset at 4°C ± 1°C

Temp. Controller

The PID digital temperature indicator co-controller with microprocessor is equipped with alarm feature, with specially designed deviation alarm, pre-set temperature, door open alarm and power failure alarm.

Temperature Alarm

High 60C & low 20C, Audio Visual Alarm

Display:

LED Display

Relay

Solid state electronic relay with protective heat sink.

Battery Backup

Facility is provided

Illumination

By 8 watts Fluorescent Lamp

Air Circulation

By forced convection system

Insulation

By High density PUF insulation

Operations

Nearly silent operation with ultra-low vibration

High Voltage Protection

Through automatic voltage stabilizer (Optional)

Electric Supply

220/230V AC, 50/60Hz
Customizable sizes are also available
Contact Us
Plot No.C-7, 9/23-18, Shiv Mandir Road, Swaroop Nagar, Near (Thana),, Delhi, Delhi, 110042, India
Phone :+918037402758